About Sil-More
Professional Integrated Total Solutions Provider
Sil-More Industrial Limited was founded in 1995 at New Taipei City, Taiwan, is one of the major adhesive material suppliers in Asia; who focus on distributing Silicone material from The Dow Chemical Company(It is completed the transaction to restructure its ownership from Dow Corning to Dow Chemical with brands: DOWSILTM、XIAMETERTM、SILASTICTM、SYLGARD™ and so on), in Taiwan, China, Thailand and Vietnam since 1995. 
With more than two decades, Sil-More cooperates with well-known global leading brands, to support material application for the Adhesives/Sealants, Encapsulants/Potting, Conformal Coating, Die Adhesive/Chip Protection, Conductive adhesive, Thermal Interface, RTV material; and Grease on Electronic, Semiconductor, Optical, Automotive, IoT & Aerospace industries. With a "Professional Integrated Total Solutions Provider" principal, Sil-More fulfilling the customer's needs, providing the Just-In-Time service, assured to become the Leading Distribution Company in Asia.
Sil-More's Core Value with Integrity, Harmony, Positivity, Professionalism, Service Oriented, and Creativity along with our professional service team in order to provide the best professional services, innovative technologies, high quality, and efficient local customer support. Sil-More established representative office and subsidiaries in China, Thailand, Vietnam and India to create an excellent customer services channel in Asia.
Along with the stable development of our products, technical supports and services from cooperated partners, we have transactional strategic alliance with KRAYDEN INC.-the international famous chemical trading distributor . Sil-More extends the regional sales network of global marketing, and actively explored the overseas markets. Deliver the application solution service to customers around the United States, Canada, Italy, Thailand, Philippines, Malaysia, Vietnam and South Korea. Sil-More offers customers a value-added experience with premier customer service. 
MILESTONES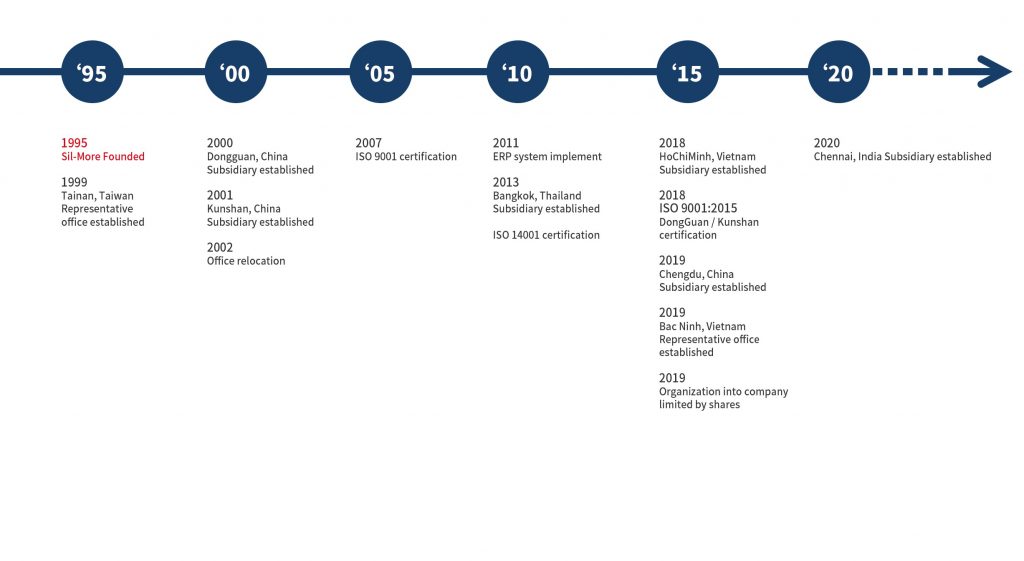 KEY VALUE

ADVANTAGE